PODCAST Ep. 10: Bob Hiney Offers His Wisdom & Advice on the Future of New York's Grid
September 18, 2020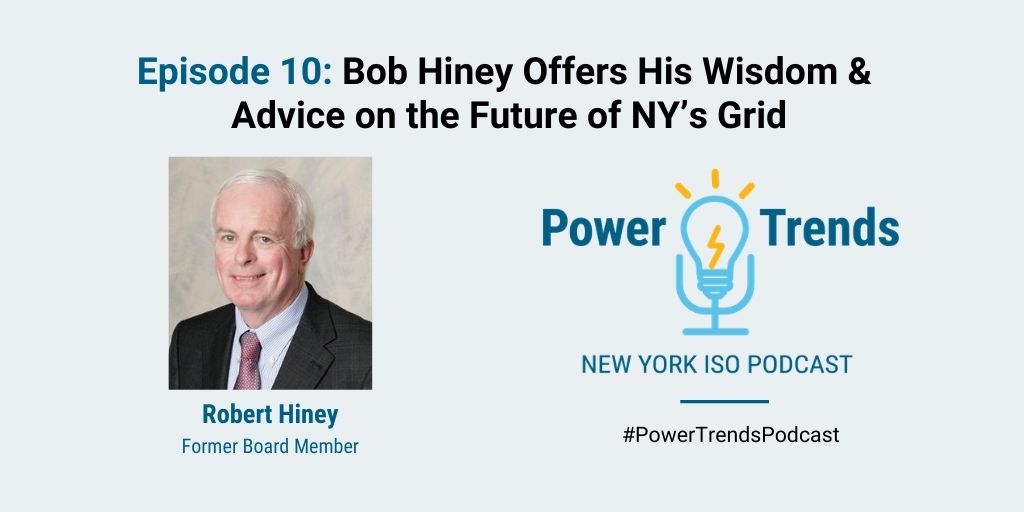 What do you get when your avowed hobby is "energy policy?" With Bob Hiney, you get a man steeped in the minutia of New York's energy markets, with four decades of experience in the electric power industry.
Hiney, a member of the NYISO Board of Directors for 14 years, previously chaired the Management Committee and filled other important roles. He recently retired, but vowed to follow us closely.
Looking back over his long and storied career, Hiney reflected on how New York's energy markets have helped make sure the energy grid had enough power to meet demand while promoting innovation to bring us to the grid of the future. For our podcast, he spoke to Kevin Lanahan, Vice President of External Affairs and Corporate Communications.
More than 20 years after he helped design and establish our energy markets, he is pleased to see how the competitive markets have kept prices low while encouraging investment in new resources. But what does he see for the future?
"This is a tremendous opportunity for the ISO and the electric power industry to reduce carbon," he said. "We're going to be spending a lot more time focusing on the demand side and how to capitalize on the flexibility that electric vehicles will provide. Balancing the intermittent energy from solar and wind is a challenge, but I see it as a real opportunity."
At a time when other states are facing reliability concerns, Hiney noted the importance of our capacity market to meet resource adequacy. He also noted the benefits of our carbon pricing proposal, which would incorporate a cost of carbon dioxide emissions into the energy markets.
"Putting resources in the right place is going to be very important," he said. "Carbon pricing will be the most accurate possible signal you can give to an investor on where best to build his facilities and what technologies to use."
Listen now.