PRESS RELEASE | NYISO Releases Power Trends 2021: New York's Clean Energy Grid of the Future
May 5, 2021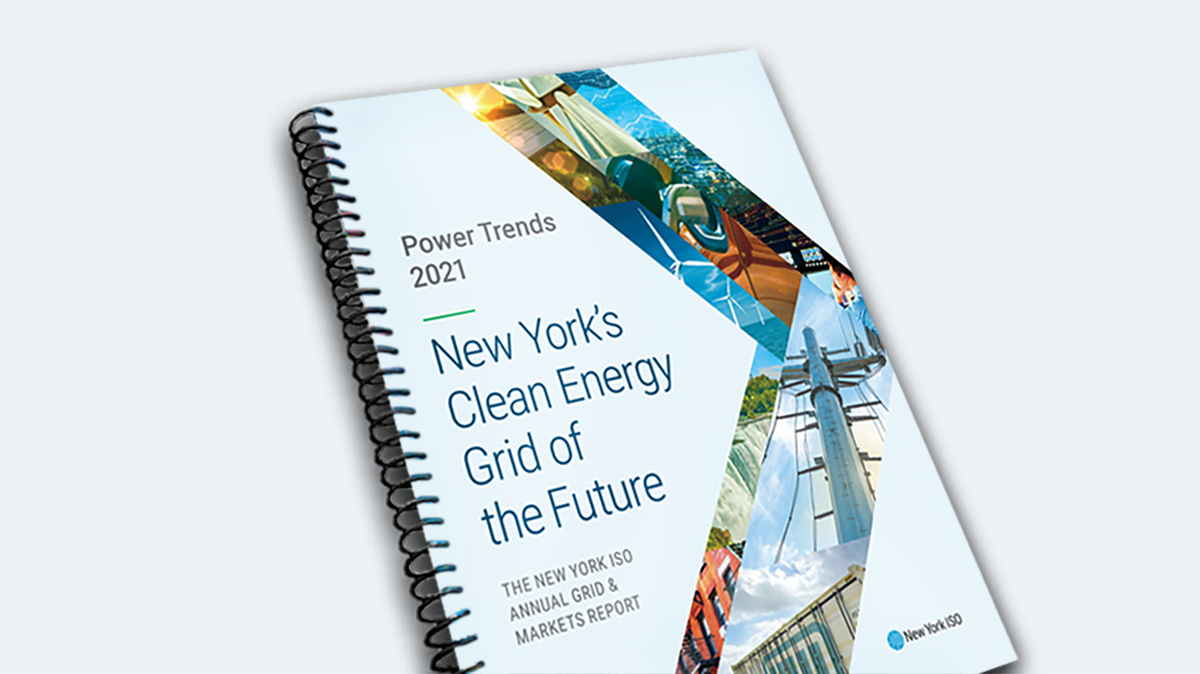 Rensselaer, NY -- The New York Independent System Operator (NYISO) today released Power Trends 2021: New York's Clean Energy Grid of the Future. The NYISO's annual publication provides critical information and analysis on how dynamic factors such as technology, economic forces, and public policies are shaping New York's complex electric system.
This year's Power Trends focuses on how the grid is undergoing significant and rapid change. Advances in renewable technology are altering the generation mix. Extreme weather events are more frequent, impacting life and property. Public policies are calling for bold action to achieve renewable investment and decarbonization mandates.
"The NYISO is committed to partnering with lawmakers, policymakers, market participants and industry stakeholders to address the priorities under the state's Climate Leadership and Community Protection Act," said Rich Dewey, President and CEO of the New York ISO. "As we move forward, we must remember that system reliability, economic efficiency, and environmental benefits are interlinked. These attributes can and must coexist in support of our power system, our economy, and consumer interests."
Power Trends demonstrates that the NYISO is committed to offering the tools, skills, independent perspectives, and experience necessary to transition to a zero-emission power system by 2040. Power Trends also shows the NYISO's dedication to serving the reliability, economic, and environmental needs of all New Yorkers.
Several elements of this year's edition show how, with the combination of effective planning, expert insight, and innovative market design, the NYISO is working harder than ever to make the Grid of the Future a reality.
System Planning and Competitive Markets Support Public Policy
The NYISO supports reliability primarily through three complementary markets: energy, ancillary services, and capacity. The design of these markets is informed by robust system planning processes. The NYISO models future conditions, operational needs, and market performance to identify necessary design enhancements. This evaluation cycle is key to maintaining and enhancing the value of wholesale electricity markets for New Yorkers. Key enhancements and milestones include:
Completing four key studies — the 2019 Congestion Assessment and Resource Integration Study (CARIS) "70 by 30" scenario, the 2020 Climate Change study, the 2020 Reliability Needs Assessment and the 2020 Grid In Transition study — to investigate the reliability and market aspects of potential resource mixes to satisfy the CLCPA;
Implementing Energy Storage Participation Rules allowing Energy Storage Resources (ESR), such as batteries, to fully participate in wholesale electricity markets;
Establishing a Comprehensive Mitigation Review with stakeholders to examine solutions to the capacity market buyer-side mitigation rules that support entry of new renewable resources into the capacity market while maintaining competitive price signals;
Receiving Federal Energy Regulatory Commission (FERC) acceptance of a Distributed Energy Resource (DER) Participation Model, which is the first comprehensive set of rules for integrating DER aggregations into wholesale energy and capacity markets;
Advancing rules to allow co-located energy storage and renewable resources to participate in the wholesale energy and capacity markets under its Hybrid Co-Located Storage Model effort;
Developing and gaining FERC acceptance of enhancements to our Economic Planning Process to address the rapidly shifting resource landscape driven by the CLCPA and other state clean energy policies;
Completing an extensive stakeholder engagement process and gaining FERC acceptance of revised Installed Capacity Demand Curves for the 2021-22 through 2024-25 Capability Years;
Developing a Solar on Dispatch participation model to support grid reliability with the expected additions of renewable resources envisioned in the CLCPA; and
Completing Class Year 2019, which included the largest group of projects seeking grid interconnection on record, the vast majority of which are renewable or other clean energy resources.
State of the Grid
Throughout 2020, the economic changes stemming from the COVID-19 pandemic caused large differences in 2020 demand levels and demand patterns relative to a typical year. Annual energy usage across the state was more than 4,100 GWh or approximately 2.6% below the expected forecast developed in early 2020.
At times, statewide peak demand levels registered roughly 10% below forecasts. As the year progressed, statewide peak demand steadily returned to near-expected levels. Daily peak loads were also most impacted in New York City, with peak demand levels ranging from 4 to 16% below forecasts established prior to the pandemic.
While overall usage and peak demand levels have fallen due to the pandemic, demand patterns have also changed. The NYISO has observed that the reduction in electric demand from commercial customers is a leading driver of overall reduced electricity consumption during the pandemic. The NYISO has also observed an increase in residential usage, especially during the midday period. These usage patterns reflect lower economic activity and a shift in usage from New York City to the suburban areas of Long Island and the lower Hudson Valley during the pandemic.
Enhancing Grid Resilience
The NYISO has a comprehensive program for addressing cyber and physical security risks. This program draws from mandatory and other industry standards and guidelines. The NYISO implements its compliance with mandatory cyber and physical security requirements as part of a layered, defense-in-depth strategy that relies on processes, state-of-the-art technology, and skilled staff to protect its critical infrastructure assets from incursion. The NYISO has also established a comprehensive organizational business continuity and disaster recovery program that safeguards business information systems and provides contingency plans in the event of a significant disruption of NYISO systems or facilities.
The NYISO's Commitment
New York's grid is transforming in response to the clean energy future envisioned by the CLCPA. The NYISO is committed to meeting these objectives reliably and with the same commitment to economic efficiency that has benefited consumers for over twenty years. Through expert system operations, planning, and wholesale electricity market design, the NYISO is anticipating the reliability needs of the future grid envisioned by the CLCPA. With that knowledge, we will continue to engage stakeholders and policymakers to design and implement the operations, planning, and market enhancements necessary for the grid in transition.
While much will change, the NYISO's commitment to reliability will remain, as will the belief that competitive wholesale electricity markets designed to encourage clean energy and protect consumers from investment risk are the best and most powerful means to meeting the needs of the grid of the future.
Download the Power Trends 2021 report.
Visit the Power Trends 2021 web page for additional figures, graphics and downloads.