PRESS RELEASE | NYISO Expands Podcast to New Platforms, Updates Logo
March 4, 2021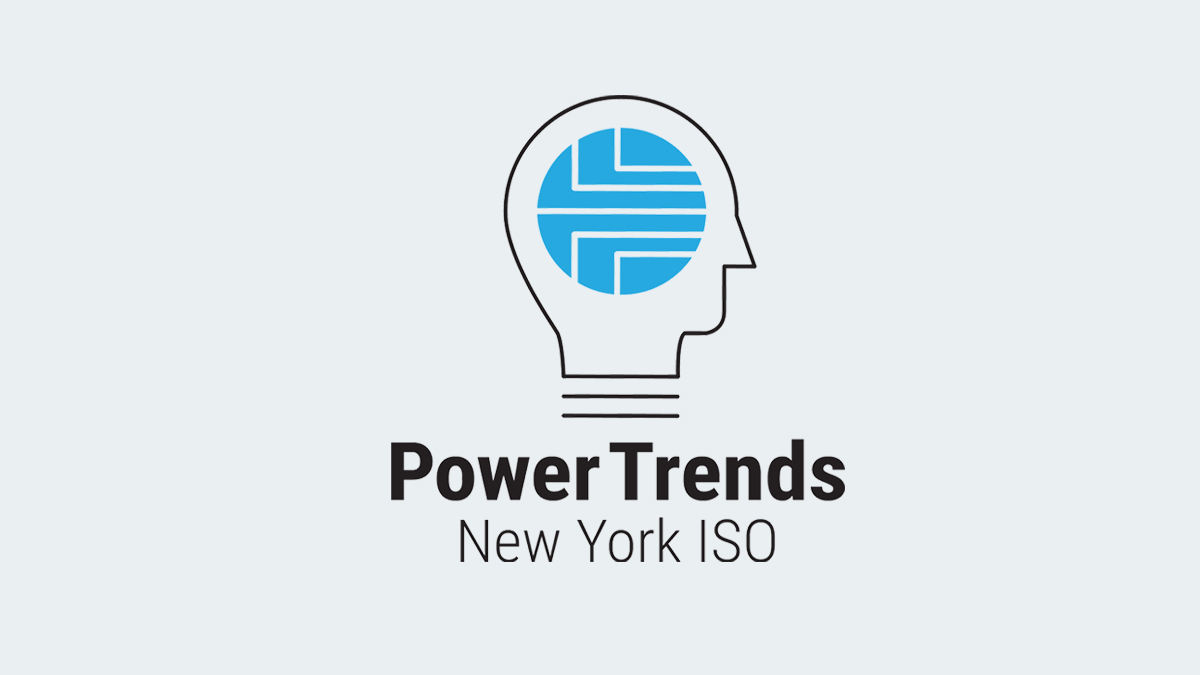 Rensselaer, NY -- The New York Independent System Operator (NYISO) today announced that the "Power Trends" podcast is now available on Apple Podcast, Spotify, and Google Podcasts. The podcast, hosted by Kevin Lanahan, the NYISO's Vice President of External Affairs and Corporate Communications, is already available on YouTube and www.nyiso.com/podcast.
The NYISO also unveiled an updated podcast logo that reflects the dynamic industry trends toward a modern electric grid. Since its launch in July 2019, the "Power Trends" podcast has been heard more than eight thousand times on YouTube and www.nyiso.com.
"It's exciting and flattering so many people are interested in hearing our perspectives on the many changes occurring in the energy industry," said Kevin Lanahan, Vice President of External Affairs and Corporate Communications. "This is another way we can fulfill our mission as an authoritative source of information on energy issues. After 18 months and 12 episodes, we enjoy listeners from across the country. We're excited to expand this podcast to new platforms and let more individuals learn about the People Who Power New York."
The most recent episode, released today, features Jeff Bishop, CEO and co-founder of Key Capture Energy. Key Capture is an energy storage company that develops utility-scale battery projects, a critical piece of building the grid of the future.
In this episode, Bishop discusses the opportunity for utility-scale energy storage to support New York's mandate of getting to 3,000 MW of storage on the grid.
Links and descriptions of previous episodes:
Episode 12: The Climate Action Council and a Reliable Zero-Emissions Grid
In this episode, Emilie Nelson and Kevin Lanahan discuss the NYISO's work with the Climate Action Council and our role on one of the panels advising the CAC as they develop a draft scoping plan.
Episode 11: "Big Think" on Power Gen's Clean Energy Future
In this episode, John Reese, Senior Vice President at Eastern Generation, discusses his role in helping the Climate Action Council develop the scoping plan necessary to meet the mandates of the CLCPA.
Episode 10: Bob Hiney Offers His Wisdom & Advice on the Future of New York's Grid
In this episode, former NYISO Board Member Bob Hiney looks back over his long and storied career, and reflects on how New York's energy markets have helped make sure the energy grid has enough power to meet demand while promoting innovation to bring us to the grid of the future.
Episode 9: From COVID-19 to the CLCPA, Power Trends is a Must-Read for Grid Stakeholders and Policymakers
Ray Stalter and Gary Davidson, the chief architects of the NYISO's annual Power Trends report, join Kevin Lanahan to discuss the months it takes to put Power Trends together and its importance to both energy industry stakeholders and the general public.
Episode 8: Staying Calm, Sequestering Operators, & the Virtues of Virtual Campfires
In the first episode recorded during the ongoing COVID-19 pandemic, Wes Yeomans, the NYISO's Vice President of Operations explains why we sequestered our operators at the beginning of the pandemic and how we worked to maintain both reliability of the grid and the physical and mental health of our valued staff.
Episode 7: Clarkson President Anthony Collins on Promoting a Culture of Innovation
Listen in to hear the steps Clarkson University has taken to prepare its students for the jobs of tomorrow, from creating an "Innovation Hub" in the center of campus to investing in businesses owned by students.
Episode 6: NYISO Initiatives to Meet Climate & Policy Goals
Join Rich Dewey and Kevin Lanahan as they explain how the NYISO's 20-year history of navigating changes in markets and policy have benefited significantly from our shared governance structure, which brings diverse perspectives and interests to the table to drive innovation.
Episode 5: Resources for the Future's Dr. Karen Palmer on Carbon Pricing and Multistate Impacts
In this episode, Dr. Palmer speaks with Kevin Lanahan about a study recently conducted by RFF on the New York ISO's carbon pricing proposal.
Episode 4: Demystifying the Interconnection of Renewables to the Grid
In this episode, Zach Smith and Kevin Lanahan discuss how the level of decarbonization required by the CLCPA will result in a grid and power system that are unrecognizable from the one we run today.
Episode 3: Energy Economist Dr. Susan Tierney on Benefits of Carbon Pricing
In this episode, Dr. Tierney explains how carbon pricing would make cleaner energy more profitable, and carbon-emitting energy more expensive by incorporating the cost of carbon emissions.
Episode 2: Clean Energy, Climate Change, and Creating a Culture of Evolution
NYISO Executive Vice President Emilie Nelson describes the important role of the NYISO's grid operators and its wholesale energy markets in addressing the recent passing of the state's landmark Climate Leadership and Community Protection Act, which seeks to grow the amount of clean energy on the energy grid.
Episode 1: Climate Leadership & NY Policy
The inaugural New York ISO "Power Trends" podcast focuses on the tremendous changes facing the energy industry and how the NYISO is prepared to meet these new objectives through our wholesale energy markets.