Stakeholder Services: The Public Face of the New York ISO
October 13, 2023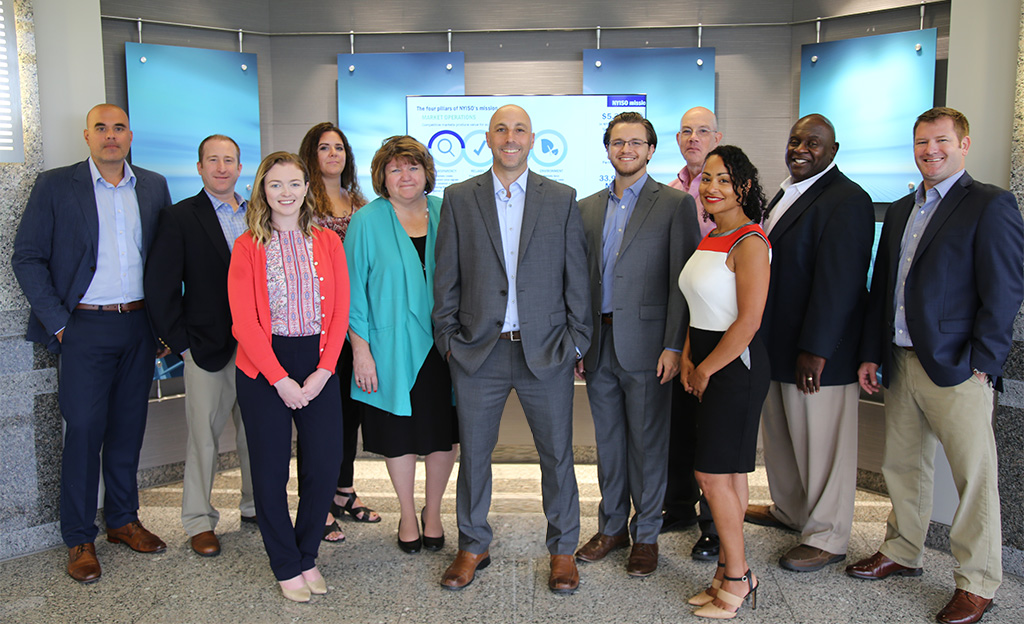 The New York ISO (Independent System Operator) has a variety of roles as manager of the electric grid in the state. One of them is overseeing the markets that allow for the trading of wholesale power. And when energy market participants have a question, as the expression goes, "Who you gonna call?"
The answer is Stakeholder Services, a 11-person department that offers support to the 435-plus participants of our wholesale markets: power generators, utilities, traders and others involved in the buying and selling of power.
We are a private, non-profit organization and pride ourselves on our independent, transparent structure. Our Stakeholder Services department is one way that we connect with market participants.
"We're the voice and the face of the NYISO," says Diana Ortiz, lead stakeholder services rep, who has been handling calls from customers and the public for the past 15 years.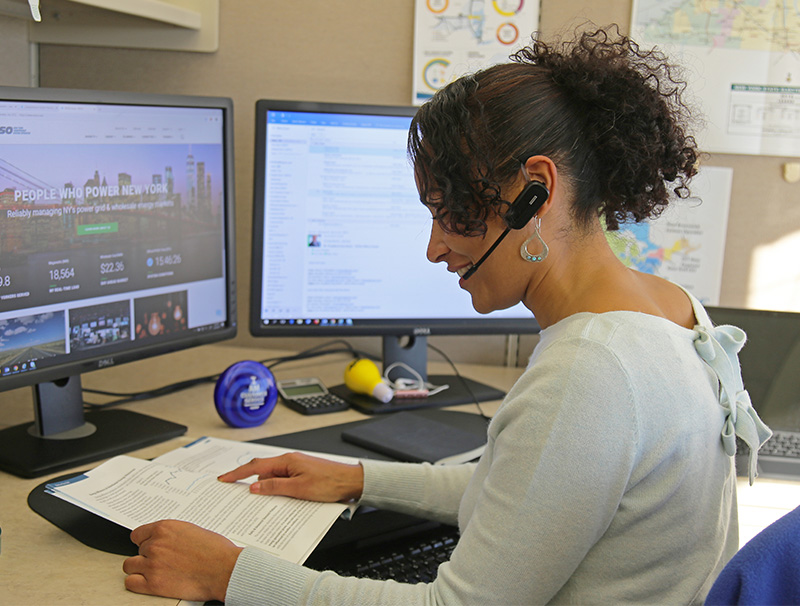 PHOTO: Diana Ortiz, Lead Stakeholder Services Representative, answers questions from a stakeholder.
"We're the ones who build the relationships with the customer," she says. "It helps them know that when they call us that they have an advocate; a dedicated rep and a team of people who know them."
Stakeholder Services has been a part of the NYISO since its inception in 1999. Our reps understand many facets of our operation, including supply and generation, demand response, financial trading, distributed energy resources and renewable generation. Our reps get to know their customers and sometimes visit them at their offices to answer questions and meet face-to-face. The goal for our team is to visit 25% of our customer base each year.
Chris Tamasi, Manager of Stakeholder Services, said his department doesn't only deal with stakeholders. Callers might include policymakers with a question, parties interested in joining our wholesale markets, even grad students looking for help with research. "I look at all those people as our customers," Tamasi says.
"We are generalists," he says. "The people you can give a call to, and get up to speed on the current issues that people are really interested in. We train our reps to be knowledgeable about the energy landscape."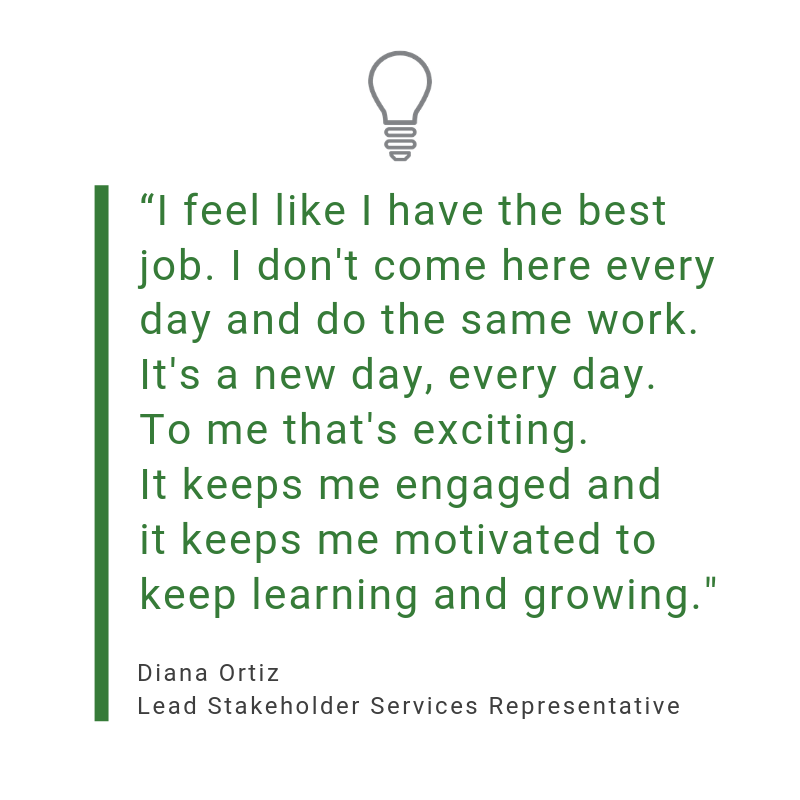 When looking for new staff, Tamasi said technical background is important, but people with a passion for learning are equally valued, as well as those who are used to working with large amounts of data. An engaging personality is also sought after.
Howard Fromer, director, market policy for PSEG Power NY, said he speaks to someone at Stakeholder Services at least once a month. A veteran of New York's energy landscape, he says even someone with his decades of knowledge still needs assistance getting answers.
"The market has grown so complicated, and the amount of source material so extensive, these folks are essential," he said. "It's a Herculean undertaking, to be on top of everything at the level of detail you need. That's where these folks come in."
Barbara Kappes, a senior stakeholder services rep, takes numerous calls per day while handling emails, live chats and website questions. At times, reps get NYISO "subject matter experts" involved in difficult questions. Kappes recalls one issue that had half-a-dozen NYISO staff in a conference room, trying to help, and the complex issue was resolved, "The customer was just thrilled," Kappes said.
Reps also take turns being on call after hours and on weekends as well, in seven-day shifts. When it's Kappes's turn, she is sure to stay close to home to ensure she can respond quickly (she still remembers one call on Christmas Eve, taken at her sister's home in the mountains, where she was able to help).
She estimates it takes nearly six months for new reps to become familiar enough with NYISO projects to be able to field calls without assistance. "When I first started working here, it was like taking a sip of water from a firehose," she says, quoting a colleague. "So much information."
Ortiz says she's had the opportunity to take jobs at other departments at the NYISO, but she never wanted to leave.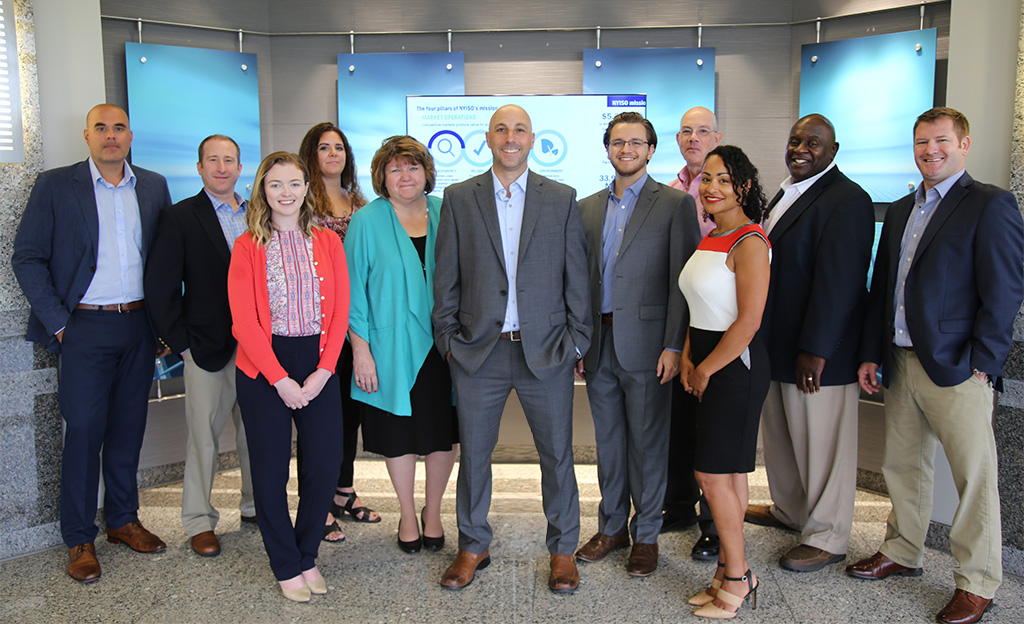 PHOTO: Stakeholder Services team - left to right: James Scheckton, Alex Novicki, Kerry Maerki, Kasia Shunk, Barbara Kappes, Chris Tamasi, Steven Cleary, David 'Hoop' Hooper, Diana Ortiz, Patrick Venable, Greg Dalpe.
Learn more about the People Who Power New York: