Joy Zimberlin, Finding Energy in Good Ideas
March 21, 2019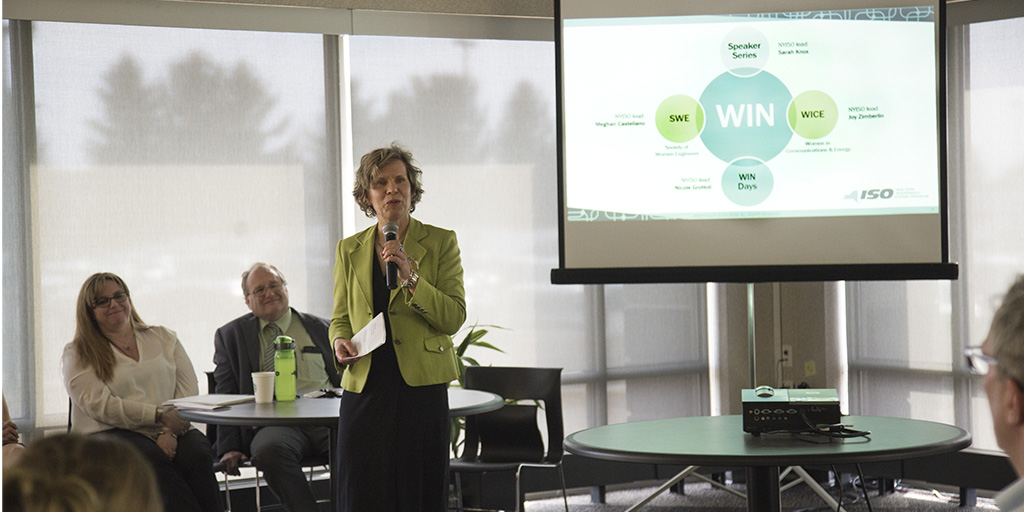 With Women's History Month upon us, Joy Zimberlin, recently named to the Women in Communications & Energy Board of Directors, has advice for women charting their own history, 'Accomplish something new every day. Be confident. Be true to yourself.' And maybe, go skydiving.
Q: How long have you worked at the New York ISO and what brought you to it?
A: I've been at the NYISO for 12 years. A colleague told me about it. It sounded like a good place to work so I started watching the website for postings, and when I saw one that appealed to me I applied. The rest is history and I am currently Lead Regulatory Affairs Specialist.
Q: What has changed since you've been in the energy industry?
A: Back around 2001, I remember an engineer in my group wondering why anyone coming out of school would choose a career in energy; he thought things were stagnant. Fast forward to now: renewables, DERs, storage, smart metering, and the impacts all these emerging technologies have on the way electricity is produced, moved, accessed, and used. These days a career in energy is a good choice!
Q: Where did you go to school and what did you study?
A: I studied ceramic and graphic design at Rochester Institute of Technology and earned an MBA from The College of St. Rose.
Q: What gives you energy in your daily life?
A: Making sure to accomplish something every day. Moving forward; new ideas. Staying connected with friends and family.
Q: What would people be surprised to know about you?
A: I jumped out of an airplane and I'm good at hanging drywall.
Q: What would you say to your younger self?
A: Be more confident. You are valid.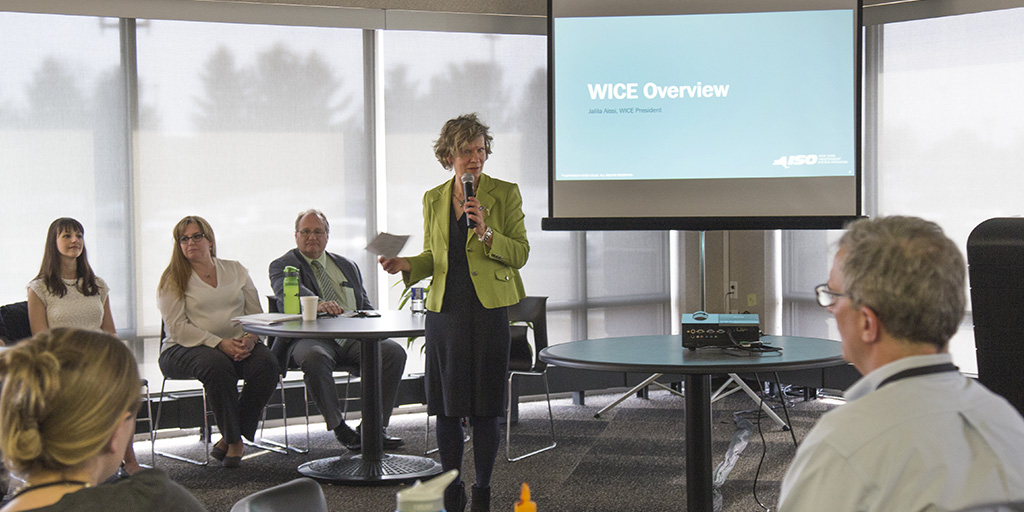 Q: Do have a role model who had a profound effect on you?
A: A handful of women in my life: my mother-in-law, my aunt, a former manager here at the NYISO and a close family friend have all influenced me with their measured, thoughtful approach to work, life, and relationships.
Q: What advice do you have for aspiring leaders?
A: Be authentic. Be true to yourself.
Q: Are there certain quotes or words to live by that you find particularly meaningful?
A: There are four quotes pinned to the bulletin board in my office. Here is one of them:
"Between stimulus and response there is a space. In that space is our power to choose our response. In our response lie our growth and our freedom." - Viktor Frankl, an Austrian neurologist and psychiatrist
Q: What are you proudest of?
A: When I look back over the years and reflect on the skills I've developed, the things I've learned, and all that I've accomplished. So, it's more cumulative than just a moment.
Q: What are you looking forward to at the moment?
A: Spring!
Q: What lesson is among the most valuable you ever learned?
A null hypothesis is still a valid answer. If you do your best and you don't arrive at the outcome you were hoping for, you have still learned or accomplished something.