New Transmission Investments Add a New Chapter to the "Tale of Two Grids"
July 19, 2022
The "Tale of Two Grids" is an old story when it comes to the New York electric system.
As managers of the grid, we have for years discussed the challenge of bringing carbon-free electricity from upstate New York to New York City, Long Island, and the lower Hudson Valley. During periods of high demand, constraints along key transmission lines can limit the amount of energy we otherwise would deliver from upstate to meet demand downstate. As a result, New York City and its surrounding suburbs will at times rely more on fossil fuels for power generation to serve customer needs.
Thankfully, the "Tale of Two Grids" is proceeding into a new chapter. A historic level of investment in the transmission system is happening, with projects under construction that will deliver more clean energy to consumers while enhancing grid resilience and reliability.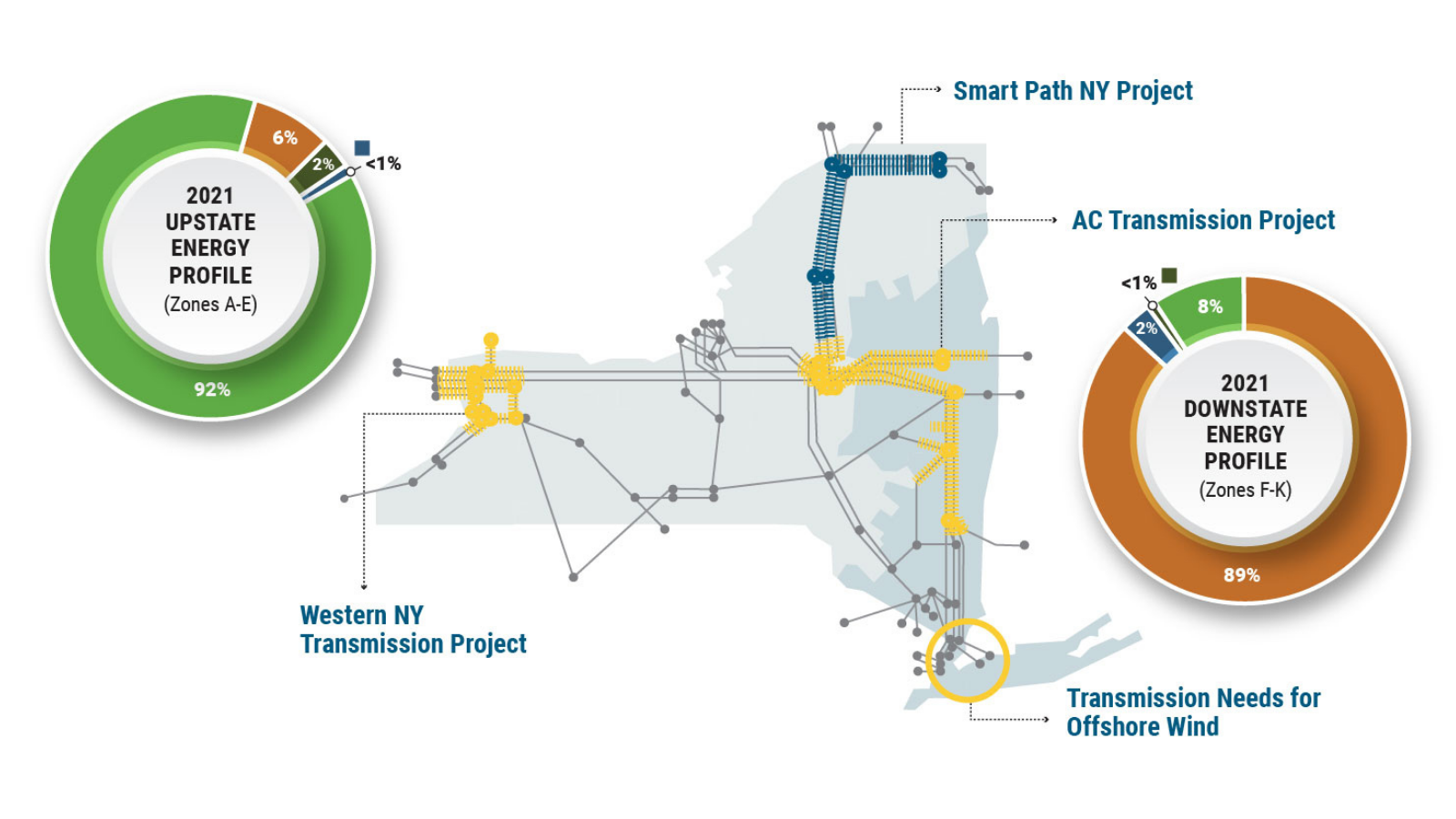 These transmission needs are identified, approved, and built in a multi-phase process in which the NYISO plays an important role.
As a first step, the New York Public Service Commission (PSC) opens a public process to examine what transmission system upgrades and additional investments need to be made. Chief among the considerations is where the system is most constrained and, looking into the future, where forecasted demand will be greatest. Many parties participate in this part of the process, including the NYISO, making suggestions and putting forward ideas.
Once the PSC settles on specific needs for the power system, we request proposals from developers. We then evaluate the proposed solutions based on their ability to satisfy the needs identified by the PSC. The proposals are ranked based on design criteria, efficiency, and cost-effectiveness.
This is a somewhat new process but one that has seen significant success in New York. In fact, the first project to make it through the various steps was recently "electrified." The Empire State Line, a 20-mile, $181-million project will improve access to renewable hydroelectric energy from the Niagara Power Plant.
On July 11, NYISO President and CEO Rich Dewey joined New York Governor Kathy Hochul and officials from project builder NextEra Energy Transmission to celebrate the opening of this vital electric link.
Other new transmission projects approved or under consideration through this process include:
The AC Transmission Project, a 150-mile, $1.2 billion upgrade, now under construction, that will increase delivery of clean power generated in northern and western New York to downstate customers through transmission improvements made in the Hudson Valley, Capital Region and other nearby areas.
The Long Island Offshore Wind Export Public Policy Transmission Need, which calls for investment in the onshore transmission system downstate to prepare it to be better able to deliver offshore wind energy. We are in the process of evaluating proposals for selection of the more efficient or cost-effective transmission solution. We are preparing for the expected installation of up to nine gigawatts of offshore wind by 2035. This new transmission will be vital as we move to a grid based on clean-energy resources and further electrify the economy through electric vehicles and building heat. These public policies will allow us to get the maximum environmental benefit from these zero-emitting resources.
Read our blog where we discuss offshore wind and the role of new transmission.
For more on how we are preparing for a changing grid, visit our Power Trends 2022 webpage to access our full report, datasheet, additional downloads, and resources.