PODCAST Ep. 4: Demystifying the Interconnection of Renewables to the Grid
November 13, 2019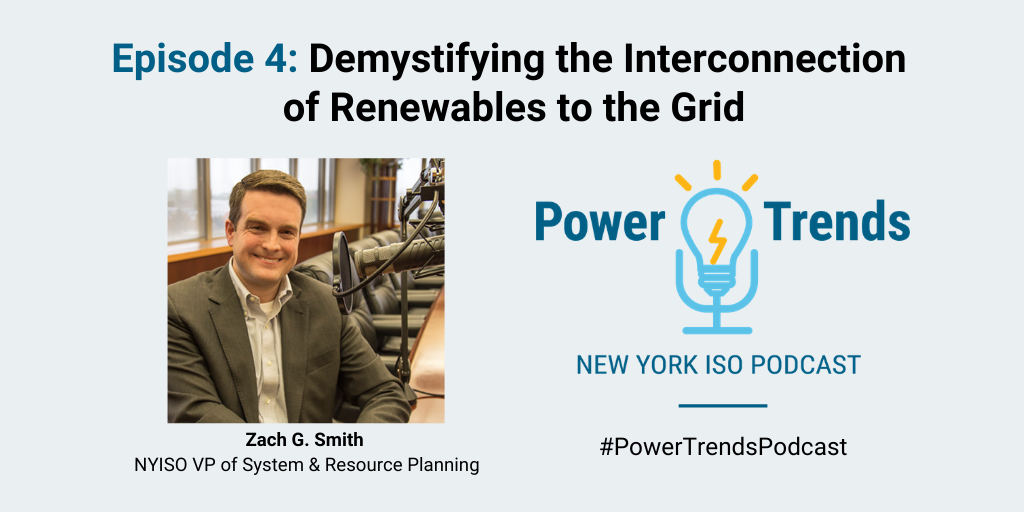 The level of decarbonization required by statutes to combat climate change in New York State, "will result in a grid and power system that are unrecognizable from the one we run today."
So says Zach Smith, Vice President of System and Resource Planning at the NYISO. In Episode 4 of the Power Trends Podcast, Smith takes us through the process required to vet new power generation projects in a given 'class year.'
"It's not as simple as addressing each project on its own," explains Smith. "If you have an area where there are multiple wind farms, solar facilities and batteries all being located in the same vicinity, they're going to have a compounding effect." The class year allows these development projects to be understood collectively and, as dictated by the FERC tariff under which we operate, how to conduct the process such that it finds the 'least cost' configuration of upgrades to maintain system reliability.
With the 2019 class year of over 100 projects, a three-fold increase over the prior class year, most of them for wind, solar, and battery projects, Smith walks us through:
The technical and reliability issues involved in reviewing power generation projects
Ways the NYISO is looking to improve and optimize the review process
The eventual impacts the public policy and the new technologies will have on supply and demand for energy
Listen to the podcast:
Learn more:
Visit the Power Trends 2019: Reliability and a Greener Grid web page