PRESS RELEASE | NYISO Releases Second Episode in #GridOfTheFuture Series: How Reliability Happens
March 24, 2022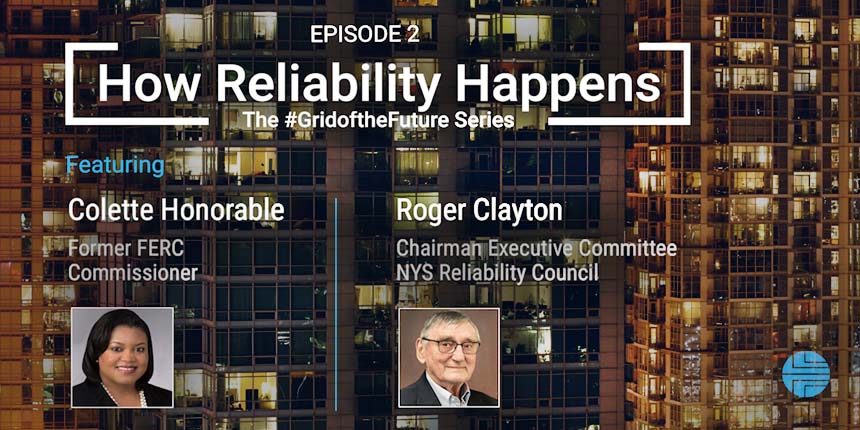 Rensselaer, NY – The New York ISO today released episode two in its ongoing #GridOfTheFuture video series, titled, "How Reliability Happens." Episode two takes a close look at how the NYISO operates the bulk electric system to the strictest reliability rules in the nation and the governing bodies that determine those rules.
The episode explores how national, regional, and state reliability organizations work together to maintain a reliable electric system in New York and features keen insight from former FERC Commissioner Colette Honorable, and the New York State Reliability Council's Roger Clayton. Also, the NYISO's Chief Operating Officer Rick Gonzales and Zach Smith, Vice President, System and Resource Planning, discuss "keeping the lights on" during the state's green energy transition.
Episode one of the series, "The State of the Grid," has become one of the most watched videos in the NYISO's history. Since its release, the video has generated hundreds of unique views, and thousands of impressions across the NYISO's social channels. Additionally, the series has driven engagement with other key pieces of NYISO-produced content focused on reliability and achieving the state's clean energy mandates.
"We have an obligation to reach audiences with important information on what it will take to deliver the grid of the future," said Kevin Lanahan, Vice President of External Affairs and Corporate Communications. "We're proud of the response so far and very thankful to former FERC Chair Bay and Commissioner Honorable. Their insight and experience helped make this series so successful."
To learn more about the NYISO's role in planning the #GridOfTheFuture, please refer to our 2040 Grid landing page. New episodes of the #GridOfTheFuture campaign will be released on YouTube, Twitter, LinkedIn and on our website.
Watch Episode 2: How Reliability Happens