PRESS RELEASE | New York ISO Publishes New eBook Describing its Role in Managing Wholesale Energy Markets
March 12, 2019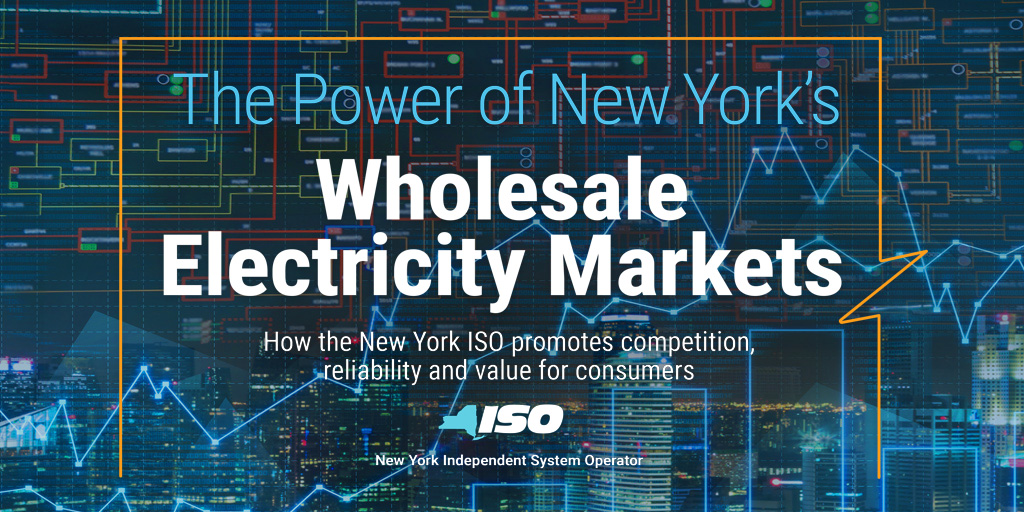 Rensselaer, NY | The New York ISO today released a new eBook, The Power of New York's Wholesale Electricity Markets, designed to educate the public about its role in managing the wholesale energy markets and their impact on the state's electric grid and overall reliability.
Throughout its 20-year history, the NYISO's markets have promoted competition, enhanced reliability, and provided real value for all consumers.
"NYISO market operations are fundamental to ensuring long-term energy needs, cost benefits and positive environmental impacts for all New Yorkers," said Rob Fernandez, Interim President and CEO of the New York ISO.
Since its inception in December of 1999, competitive markets have contributed to significant reductions in the state's power sector emissions. In this period, according to the EPA's Air Markets Program, carbon dioxide emissions are down 52%, nitrogen oxide emissions are down 88%, and sulfur dioxide emissions have been reduced by a full 99%.
In 2017, the NYISO's wholesale energy markets helped reliably deliver 156,000 GWh of energy from more than 700 power generating units.
"One of the NYISO's success stories is our continued ability to adapt to changing technologies and lead the way in innovation. Whether it's enhancing the participation of Distributed Energy Resources like wind or solar, or encouraging greater adoption of energy storage, the NYISO's markets have lived up to the challenge," added Fernandez.
For more information on the power of markets and how the New York ISO continues to drive innovation, please view the eBook.