Our Role Expanding Transmission to Meet the Needs of a Clean Energy Grid
April 1, 2021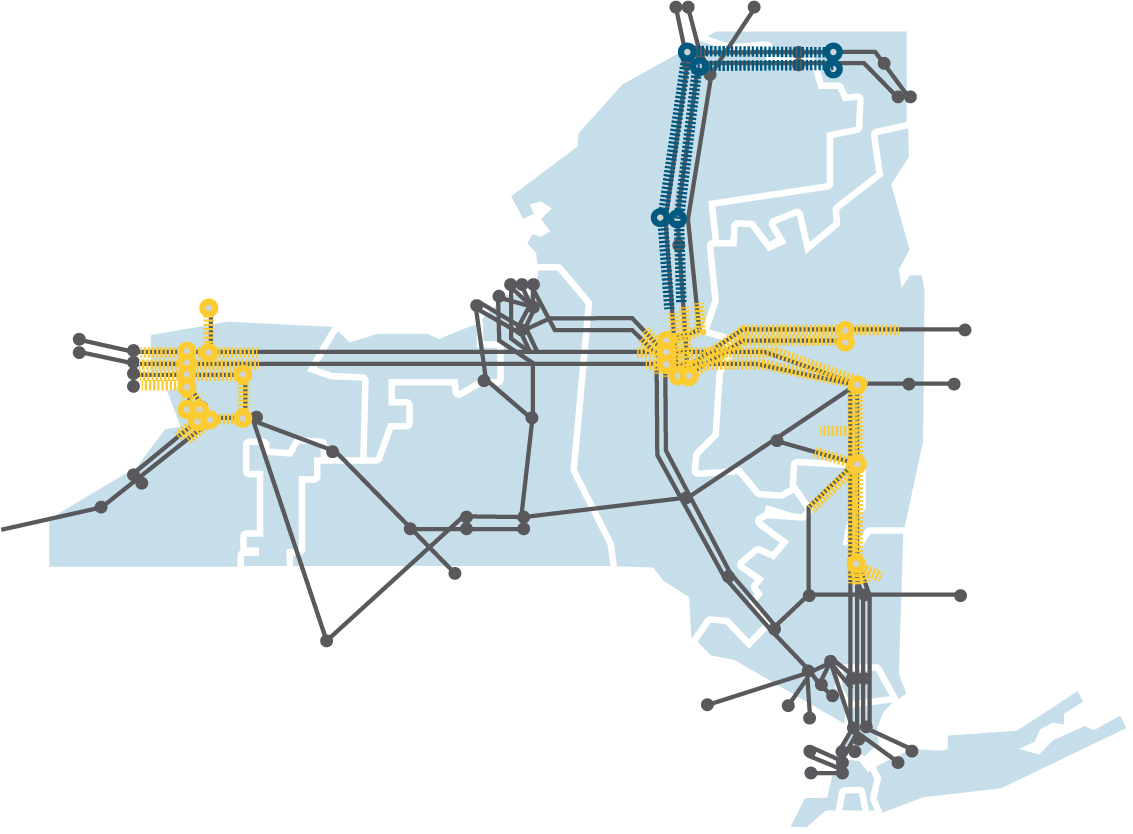 Transmission developers are making the biggest investment to the energy grid in a generation, investing $2 billion on upgrading transmission lines around the state. These multiple projects, which will help prepare us for the grid of the future, came about in part through our work in planning for future needs and working with developers and regulators.
The nature of transmission in New York today is what we deem "The Tale of Two Grids." Upstate is where most of today's clean energy is located, including wind farms and nearly all the hydropower. And in downstate, where a majority of the energy consumption in the state takes place, energy is generated almost exclusively by fossil fuels.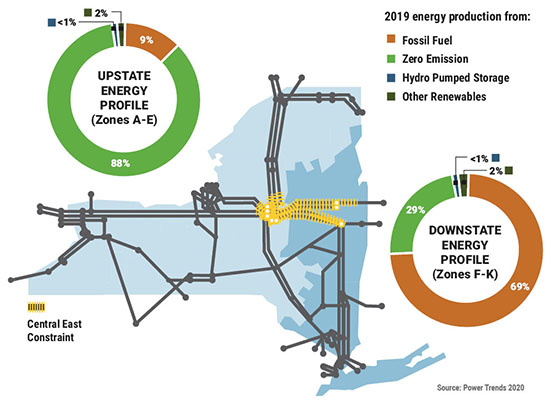 For years, the difficulty has been getting the energy from where it's generated to where it's consumed. Congestion on the transmission system limits the ability to move clean energy supplies from upstate generators to downstate consumers. Under the Climate Leadership and Community Protection Act (CLCPA), the state has called for a 70% clean energy grid by 2030 and a 100% emission-free grid by 2040. Meeting these mandates requires addressing transmission congestion. To that end, a number of efforts are being undertaken to reduce congestion and increase the flow of clean energy.
Our experts use sophisticated computer modeling to determine energy needs, ranging from a few weeks to 30 years in the future. These planning processes led to two major projects currently under construction that will expand the ability to move large amounts of energy around the state.
Our planning processes identify transmission limits that inform the state's declaration of a "public policy needs," recognizing the need for transmission upgrades to achieve clean energy goals. Once the public policy was set, our further role was to solicit projects from market participants, evaluate proposals to make sure they would meet the needs mandated, and recommend the projects that best meet these needs.
Last year, the state Public Service Commission (PSC) approved a plan to construct the Western New York public policy project that will be added to an existing right-of-way from Niagara to Erie counties. The estimated 20-mile, $181 million project, when complete, will make the 2,700 MW of renewable energy from Niagara Falls fully available, and transfer an additional 1,000 MW from Ontario during emergency conditions.
More recently, the AC Transmission Upgrade project encompasses two expansion efforts in eastern New York, including:
$750 million investment in 93 miles from Oneida to Albany counties
$470 million investment in 54 miles from Rensselaer to Dutchess counties
Both sections require the demolition of aging transmission lines and towers in order to build new towers and lines that can handle a greater amount of electricity within the existing rights-of-way. Construction for all three projects is under way.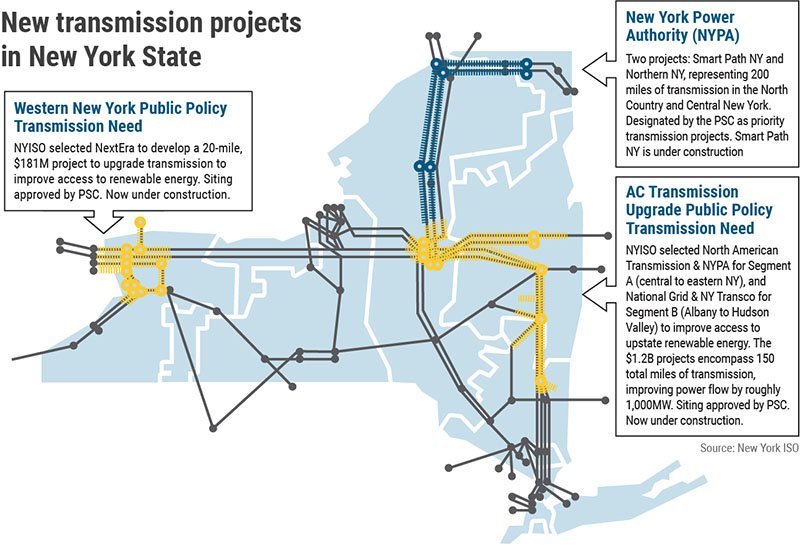 We continue to play a role in these transmission projects by preparing the grid to operate during line outages that are necessary to allow for the installation of new equipment.
Other transmission projects are also taking place in New York. The New York Power Authority (NYPA) is currently undertaking the Northern New York Project, which includes rebuilding nearly 200 miles of transmission in the North Country and Central New York areas. In addition to "unbottling" existing renewable energy in the region, NYPA estimates the project will result in significant production cost savings, emissions reductions, and decreases in congestion.
NYPA's total investment in transmission projects is expected to be $726 million.
Absent these upgrades to the transmission system, renewable resources would increasingly be bottled. Bottling occurs to renewable resources when they are generating more energy than can be transmitted. It means the energy is stuck in one region, unable to be moved to higher load centers due to transmission limitations. Constraints on transmission could also lead to "curtailing," or purposefully reducing the output of solar or wind due to transmission limitations.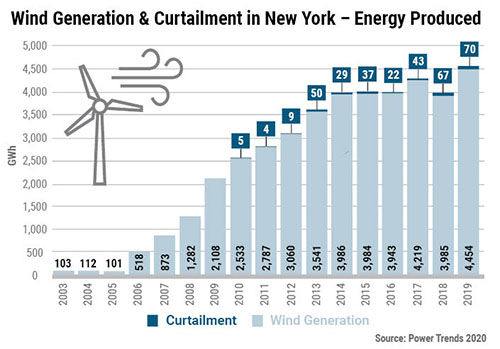 New transmission work is also important because of the so-called "peaker rule," which will require that fossil fuel generators, totaling about 3,300 MW, meet tightening regulations on smog-forming pollutants beginning in 2023. Many peaker plants are located within load pockets in New York City and Long Island. These are transmission-constrained geographic areas where electrical demand sometimes can only be served by local generators. We conduct reliability planning and analysis to consider the impact of the peaker rule and will identify opportunities to address constraints.
As we move to a grid of the future, new transmission needs are continuing to be evaluated. New York State recently declared a third public policy project to support the delivery of energy from offshore wind facilities to Long Island and New York City. The NYISO filed comments to the PSC supporting this need, which is necessary to achieve the objectives of the CLCPA. We will continue to play a central role in collaborating with regulators and transmission owners. Look for continued discussion of the Road to 2040 in future blogs.
For more about how we are addressing a zero-emissions grid with market-based solutions, visit the 2040 Power Grid webpage.