VIDEO: Past Interns Welcome New Recruits to 2020's Remote Internship Program
July 7, 2020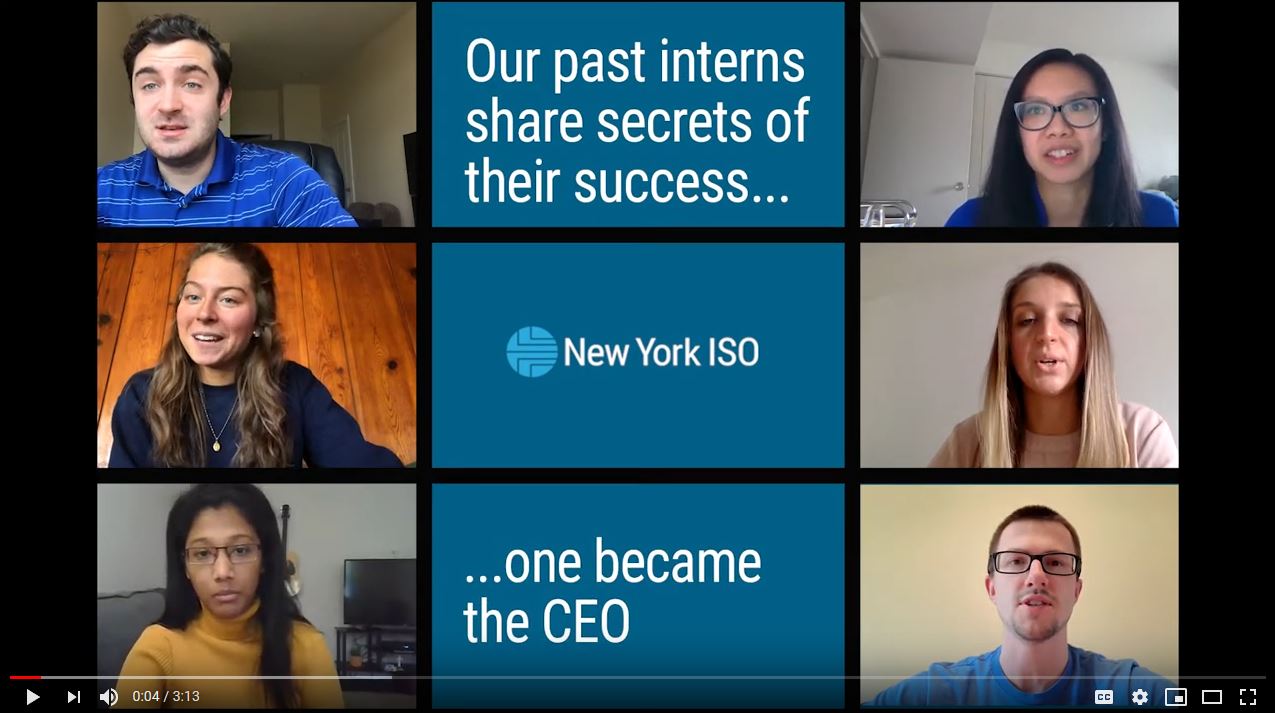 Each year, approximately one thousand college students from across the country, apply for fewer than 20 positions in our summer internship program. Since the program's inception, more than 50 of those interns have been hired as full-time employees.
We seek talented individuals through all of our recruiting initiatives and the internship program is an important component. This creates a group of potential future full-time employees, familiar with our operation, with a proven track record of success.
Then came COVID-19. Since March, most of our team members have been working from home. So how would the 2020 Internship Program move forward?
In just a few weeks, Alice Wu, NYISO Recruiting Specialist, and her human resource colleagues took steps to create a "virtual" program for the 14 interns joining us this summer. For the first time in our 20-year history, our interns would work remotely, some from as far away as California or Arizona.
"It's going to be a spread-out intern class," Wu said. "But we are going to try to make it as close as possible to what we had done in the past." As in previous years, interns will take part in lunch-and-learn programs led by various NYISO vice presidents. The interns will also work on individual projects, which they will discuss in a final presentation. Both events will be via the web.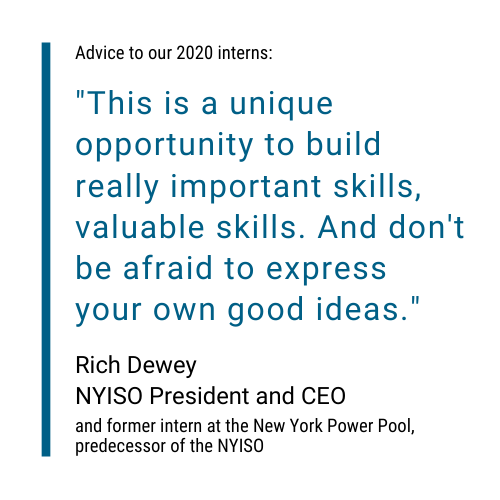 ​​​​​​
Other elements were more difficult to duplicate. For instance, the program usually includes several field trips to sites like a wind farm, hydropower facility, or gas turbine plant. This year, we are working on virtual field trips instead, using a live video feed.
"We use this internship program as a good opportunity to get ourselves out there and into the minds of people interested in this industry," said Wu.
"There aren't a lot of programs in school to teach what we do. It's an opportunity for students to see what it's like and get them interested in working here in the future."
Also this year, interns were greeted with a new welcome video. In the video, a number of current employees who started as interns greeted the new group and offered tips for their 11-week experience.
Visit our internship webpage for more information about the program.
Visit our careers webpage for more information about working for the New York ISO and to join our talent network.