PRESS RELEASE | New York ISO Releases 5-year Strategic Plan for Power Grid
January 22, 2019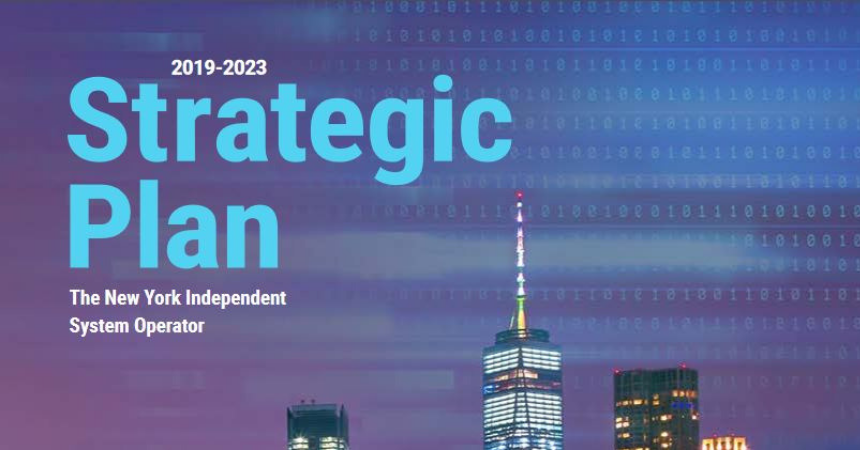 Rensselaer, NY | With the state's electric grid continuing to evolve, and the market structure in transition, the New York Independent System Operator (NYISO) today released a multi-year strategic plan focused on addressing these changing dynamics with precision and innovation.
The Strategic Plan is based on the NYISO Board of Directors' review of financial and regulatory outlooks, as well as the economic and environmental factors affecting market participants and stakeholders. It accounts for market and regulatory trends that will shape the industry going forward, and positions the NYISO's markets, planning processes, and operational practices for changes in the energy industry landscape.
The 2019-2023 Strategic Plan, clearly defines the path forward and embraces the increasingly prominent role public policy initiatives are taking in reshaping the grid. Working in close coordination with market participants, stakeholders, policy makers and regulators, the NYISO remains committed to being a leader in reliability, market design and technological innovation.
"Our updated Strategic Plan is a living document that embraces the challenges and opportunities of the grid's ongoing transformation," said NYISO Interim President and CEO Robert E. Fernandez. "The plan reflects the NYISO's essential role in harmonizing public policy with technological innovation in a manner that delivers economically efficient and reliable energy to consumers."
Over the next five years, the NYISO will lead efforts in the following areas:
Reliability
Promote resource adequacy and transmission security now and in the future; sustain and enhance reliable operation of the bulk power system.
Market Design and Performance
Develop enhancements to the wholesale electricity markets that increase reliability, efficiency, and foster new investment.
Thought Leadership
Provide an independent, unbiased source of information on New York's grid and energy markets, by analyzing long-term reliability, environmental and cost impacts of policy and technology choices.
Planning Processes and Coordination
Conduct reliability, economic, and public policy planning studies and other future grid planning initiatives.
Technology Innovation
Develop innovative market products, reliability tools, and information architecture to maintain reliable, optimally performing and secure operation of existing systems while reinforcing and enhancing cybersecurity protocols and best practices.
With a strong focus on financial discipline, the NYISO remains committed to market transparency and to its role as a leader in grid reliability, market design and performance. The NYISO maintains robust planning processes; fosters technological innovation; and serves as an independent, objective and authoritative source of information for policymakers, market participants and consumers.
View the 2019-2023 Strategic Plan.