PRESS RELEASE | NYISO Releases Power Trends 2019: Annual State of the Grid & Markets Report
May 2, 2019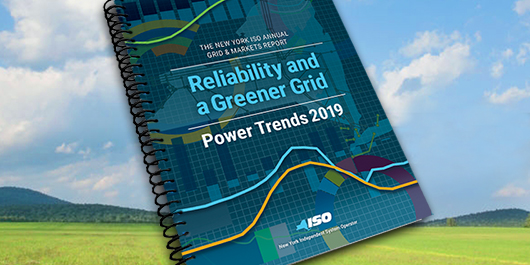 Rensselaer, NY | The New York Independent System Operator (NYISO) today released Power Trends 2019. Each year, this report provides information and analysis on how technology, economic forces and public policy are shaping a more dynamic power grid, and the implications for the state's wholesale electricity markets.
The electric power system in New York stands at the cusp of the next evolution. New technologies, such as storage and solar, are beginning to enter the wholesale markets. New wind projects, including off-shore projects, are being proposed. Distributed sources of electric power are being located close to consumers. New environmental standards are causing the retirement of resources that have been part of the generation fleet for decades. Power Trends shows how the NYISO is uniquely equipped to handle this evolution and manage a grid in transition.
Accelerating these changes are multiple public policy initiatives that are largely intended to address climate change. Whereas last year's Power Trends discussed the implications of ambitious public policies calling for 50% of electricity consumed by New Yorkers to come from renewable sources by the year 2030, Power Trends 2019 examines the impact of even more aggressive goals.
"There is no historical precedent for the ambitious changes to the bulk power system envisioned by policymakers," said NYISO Interim President and CEO Rob Fernandez. "Complicating these technological and public policy goals is the fact that the NYISO must operate the system to the strictest reliability rules in the nation. Competitive wholesale electricity markets are critical to accomplishing New York's aggressive policy objectives efficiently and reliably."
New York's policymakers envision a power system that will include large amounts of renewable, intermittent resources like solar and wind, as well as energy storage and behind-the-meter resources. Power Trends lays out the path forward and highlights the state's challenges and opportunities:
State of the Grid
Twenty years of operating the bulk power system to the nation's most stringent reliability standards has demonstrated that competitive markets are well equipped to maintain reliability while adapting to the uncertainty that emerging technologies can introduce.
Consumers are increasingly adopting Distributed Energy Resources (DER) to supply a portion of their energy needs. DERs displace energy that was traditionally supplied by the bulk power system, contributing to declining load on the grid, but adding complexity to operations, market design efforts, and system planning needs.
Achieving Public Policy Goals Requires a Reliable Foundation
The NYISO intends to adapt to the state's increasingly ambitious environmental goals by leveraging its experience in delivering reliability through markets.
Among other initiatives, the NYISO is developing a proposal with stakeholders and policymakers to incorporate the societal costs associated with carbon dioxide emissions into its energy markets to better reflect the state's policy of reducing emissions. Similar to how competitive markets created incentives for generators to improve efficiency, a social cost of carbon priced in the energy market would create stronger incentives for those types of efficiency improvements. Markets would also provide stronger incentives for developing zero-emitting resources like wind and solar in locations where they will have the greatest effect on emissions.
The NYISO has developed a comprehensive proposal that would allow DERs to participate in NYISO markets and act as supply based on wholesale prices.
Making Policy Work
Absent investment to expand the transfer capability of the bulk power system, investment in renewables in upstate load zones runs the risk of bringing diminishing returns in terms of progress toward both renewable energy production and carbon dioxide emissions reduction goals. This is because nearly 90% of the energy produced upstate already is derived from carbon-free resources.
Without market-based incentives for investment in renewable resources and absent a more robust transmission system to move power to load, state policies could promote a resource mix where new renewable resources increasingly displace the output from existing renewable or other zero-emitting resources.
Furthermore, additional upstate renewable resources will place downward pressure on wholesale energy prices, placing upward pressure on the cost of the state's out-of-market incentive payments.
Building the Grid of the Future
The NYISO expects evolving environmental regulations and renewable energy goals to accelerate the transition from higher-emitting generation to lower-emitting resources, potentially placing the downstate region at increased risk of fuel and energy supply disruptions.
The NYISO is actively engaged in the rule-making process following the DEC's February issuance of a draft rule that could impact approximately 3,300 MW of simple-cycle turbines in New York City and Long Island. The NYISO continues to be involved in the rule-development process and will inform policymakers, market participants, and investors about the implications to bulk and local system reliability.
The NYISO has initiated the second phase of its 2018-2019 Reliability Planning Process, the Comprehensive Reliability Plan, which includes a scenario evaluating the reliability impacts of the potential retirement of all 3,300 MW of peaking units impacted by the DEC's proposal.
For nearly twenty years, the NYISO's competitive wholesale markets, bulk power system operations, and comprehensive system planning processes have played a central role in transforming the energy landscape in New York. As policymakers seek a more rapid and widespread change in how energy is produced and consumed, the NYISO's markets and planning processes will continue to serve as a platform to facilitate this transformation.
---
Download Power Trends 2019
Visit www.nyiso.com/power-trends for supporting material and downloads.