Podcast Ep. 24: U.S. Energy Information Administration Experts Discuss the Causes of Rising Winter Electricity Prices
January 11, 2023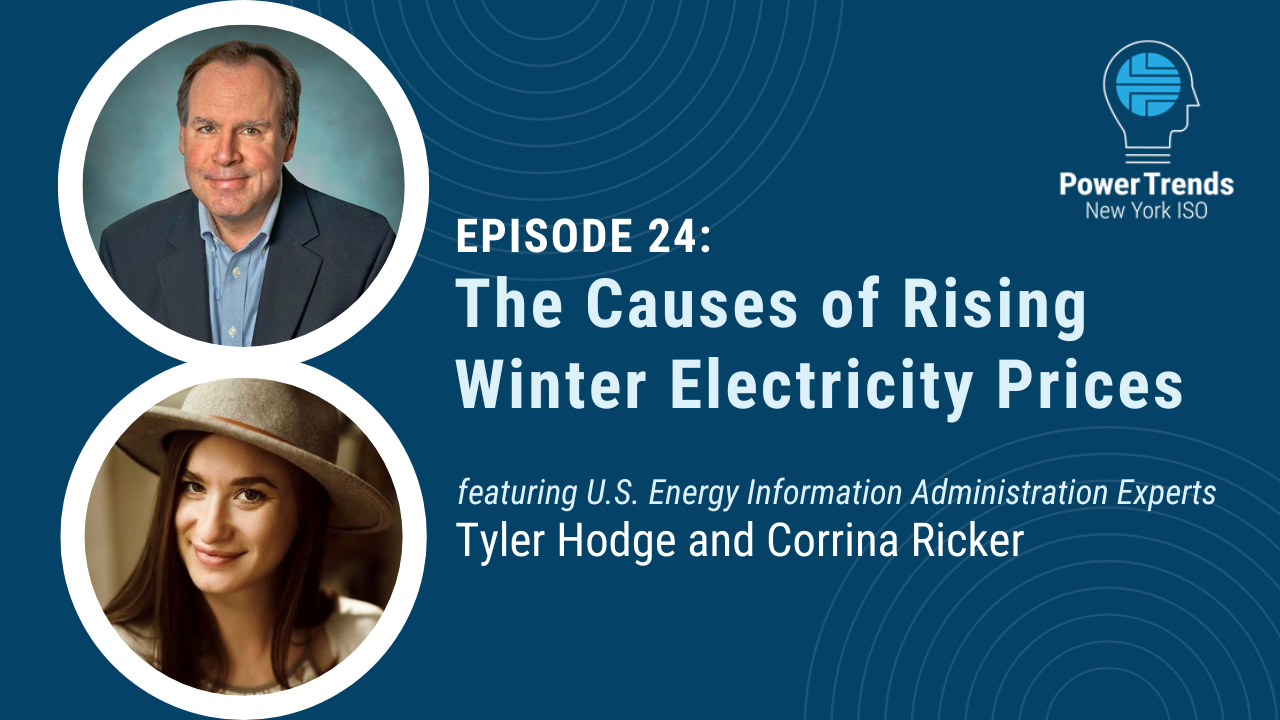 In our latest Power Trends Podcast, we interview two leading Energy Information Administration (EIA) analysts about the impact of wholesale natural gas prices on winter electricity costs in New York.
We spoke to Dr. Tyler Hodge, Senior Economist in the Office of Energy Analysis, and Corrina Ricker, a Certified Data Scientist on the Natural Gas Markets team, to dive into the findings of EIA's latest Short Term Energy Outlook (STEO). Hodge said that he expects electricity prices in New York in 2023 to be about 10% higher than in 2022, which is in line with the U.S. overall. "The fuel cost is the biggest driver to wholesale prices," he said.
In a conversation with the NYISO published earlier this year, Hodge and Ricker explained the relationship between fuel costs and energy prices, and how recent geopolitical factors, like the war in Ukraine, and pandemic-related slowdowns, helped to create low energy supplies. Supplies are rebounding, they said, but demand is also up nationally.
In this recent interview, Ricker also said that increased global demand for natural gas, followed by U.S. exports of liquid natural gas to Europe are driving electric prices higher. Colder-than-average temperatures predicted for the next few months could also have an upward impact on prices through the heating season, she said.
While the amount of electricity coming from renewables continues to rise nationally and in New York, natural gas remains the largest source of generation, they added.
Listen to the podcast.
---
About the U.S. Energy Information Administration
The EIA collects, analyzes, and disseminates independent and impartial energy information to promote sound policymaking, efficient markets, and public understanding of energy and its interaction with the economy and the environment. Read their Short-Term Energy Outlook.