PRESS RELEASE | Power Trends Podcast - Episode 2: "Clean Energy, Climate Change, and Creating a Culture of Evolution"
August 27, 2019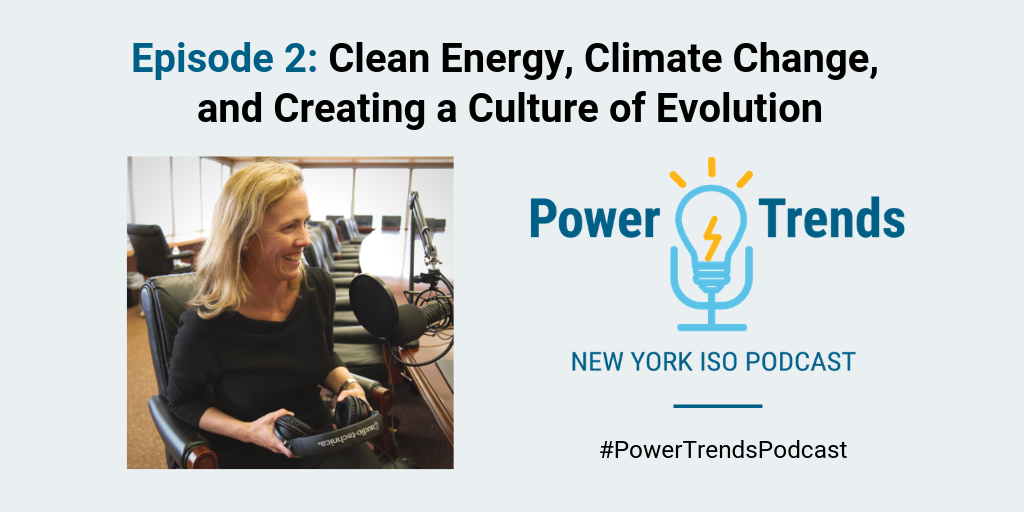 Rensselaer, NY - Building off the successful July launch of it's "Power Trends" podcast, the NYISO today unveiled the second episode in the ongoing series.
The episode, "Clean Energy, Climate Change, and Creating a Culture of Evolution," includes an interview with NYISO's newly-installed Executive Vice President, Emilie Nelson.
In this episode, Nelson traces her deep roots in the energy industry while describing ongoing projects and her new role in the organization.
Highlights include:
Nelson's stance on what makes a good leader
NYISO's role in maintaining reliability in the context of aggressive new state energy goals
The Women in NYISO (WIN) initiative
The leadership role NYISO staff and stakeholders have taken in adopting new market rules to the better integrate Distributed Energy Resources and storage into the wholesale electricity markets
In a 15-minute conversation with Kevin Lanahan, the NYISO's Vice President of External Affairs & Corporate Communications, the pair discusses the fundamental shift occurring at ISOs and RTOs across the country. This shift includes the increasing role of renewables in the generation mix and what that means for grid operators and keeping the lights on.
"When you're thinking about the future that we are now preparing for, where you're trying to transition from what's been a centralized model and pulling in more distributed resources, we still want to make sure that the operators have what they need to maintain bulk power system reliability," said Nelson. "The job is getting more complex, and that challenge is something that I think our organization is positioned well to address."
The "Power Trends" podcast is currently only available on the NYISO website and on our YouTube channel. To stay up-to-date with the latest episode and content from the NYISO, please subscribe to our channel.
Listen to Episode 2: Clean Energy, Climate Change, and Creating a Culture of Evolution.